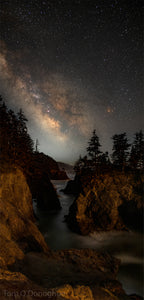 I have had a few nights out shooting the Milky Way this year. These pictures will soon be added to the DSLR prints available for sale, but I m posting some here to give an idea of what is to come. This is Natural Bridges in Oregon taken back in April.
---
As part of the Dark Skies Heritage Week in Ireland, I was asked to give a talk on DSLR Astrophotography. This lecture was recorded and is now on you tube https://www.youtube.com/watch?v=lPZlK5VP1yQ&t=1276s I should point out that at 21:10 I said that going from f1.4 to f/4 is 4 stops. This is actually 3 stops, and the ISO needed to go to, to make up for the small aperture would be 6400, not 3200 that I mention.  
---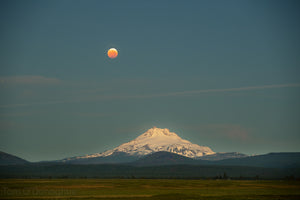 In the early hours of the 26th of May, I was lucky to be in the path of Totality during the Lunar eclipse in Oregon, USA. I had driven to a spot to get Mount Jefferson in the foreground. This shot taken at approx 04:35 as the Lunar Eclipse was ending with the sky brightening was my favourite of those taken that morning. This photo will be added soon to the DSLR photos for sale.
---
This month, I'm very excited to announce the launch of my online store, where prints of all my images can be purchased.  Note: due to Covid-19 restrictions, I have suspended the sale of framed prints, but will resume selling those later in 2021 when restrictions are lifted.  
---
Now in the Zoomify pane, the 400 hour Orion Mosaic I started in 2011 can be enjoyed at 40% full size.I began by taking a 4 pane mosaic in Luminance, Red, Green, Blue, and Hydrogen Alpha, of the Sword of Orion. The region including the 3 Belt stars, Flame Nebula, Horsehead, and Orion Nebula and ended up as a 56 hour 4 pane mosaic.I was able to extend my stay in Spain, and I decided to try to image the main asterism, that is the "X" of Orion so visible in the Winter sky. In the Winter of 2012 /2013...