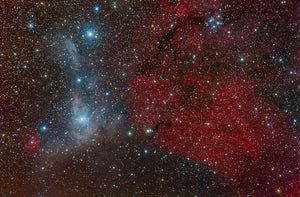 Tom O'Donoghue
Van Den Bergh 14 and 15
Regular price
$87.00
$0.00
Unit price
per
Tax included.
This is a two pane mosaic from the Constellation Camelopardalis. To the left are vdB14 and 15, reflection nebulae which have Blue / Purple and Silver hue, of which not many are seen in the sky. To the right is the vast Emission nebula Sharpless 202. Embedded in this nebula is a Star Cluster.

This photo has 30hrs of LRGB and Ha data from 530mm focal length.
Note: All our prints are printed on Baryta 325g Paper, which is an excellent paper for framing. The paper is a gloss type, which gives very vivid colour views.
---