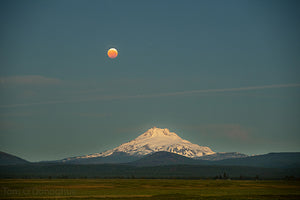 Tom O'Donoghue
Total Lunar Eclipse Oregon
Regular price
$98.00
$0.00
Unit price
per
Tax included.
On the night of the 25th and 26th of May 2021, a Total Lunar Eclipse was visible across the Western half of Oregon.
I drove out with some friends into the start of the high desert area to try and shoot a Sequence shot of the eclipse throughout the night.
We had pulled the car over on the side of a Highway, which gave great views of Mount Jefferson and set up. As the night drew to a close and the sky started to brighten, Mount Jefferson began to come more into view, just as totality was starting to end. I was able to shoot single exposures showing the colour of the Moon during Totality, with the snowy majestic Mount Jefferson dominating the foreground.
The single shots turned out much better than the sequence I had originally planned.
Equipment used: Canon Ra and 70-200mm Canon lens
Note: All our prints are printed on Baryta 325g Paper, which is an excellent paper for framing. The paper is a gloss type, which gives very vivid colour views.
---