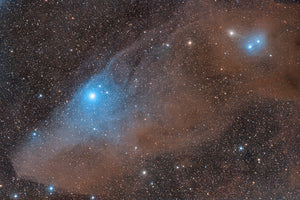 Tom O'Donoghue
Summer Horsehead Scorpius
Regular price
$87.00
$0.00
Unit price
per
Tax included.
The Summer Horsehead nebula in the constellation of Scorpius, has two main areas of blue reflection nebula, designated IC 4592 and IC 4601, surrounded by interstellar dust. The shape of the nebula bears a resemblance to a galloping horses head. I have inverted this image to show the Horsehead shape. The blue reflection nebulae colour is caused by the tendency of the interstellar dust to scatter blue star light more strongly than other colour of the spectrum. 
This is a single frame photograph covering approximately 4 x 2.5 degrees of sky, 8 hours of Luminance were combined with 3 hours of Red, Green, and Blue per panel. This gives a total exposure of 17 hours for the entire image. 
Note: All our prints are printed on Baryta 325g Paper, which is an excellent paper for framing. The paper is a gloss type, which gives very vivid colour views.
---