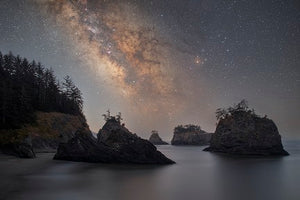 Tom O'Donoghue
Secret Beach
Regular price
$98.00
$0.00
Unit price
per
Tax included.
The Samuel Boardman Scenic highway is a 12 mile stretch of coastline in Southern Oregon with stunning hikes, sea arches, sea stacks, beaches and coastal views.
I had first visited and scouted the area in 2021 but only managed some Blue Hour pictures of Orion. On this trip in April 2021, I had 5 nights of coastal fog which prevented taking photos. I managed to extend my stay two extra nights which luckily were clear.
At 03:00 in the early hours I hiked through the forest to reach the Secret Beach spot. I took multiple 3min exposures of the sky and stacked them together. The moon rose about 04:00 allowing me to use that light to show detail in the foreground.
This is a stacked 24min sky shot blended with a 4min foreground shot.
Equipment used: Canon Ra, 24mm Samyang lens, Star Adventurer tracker.
Note: All our prints are printed on Baryta 325g Paper, which is an excellent paper for framing. The paper is a gloss type, which gives very vivid colour views.
---