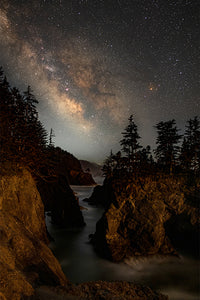 Tom O'Donoghue
Natural Bridges
Regular price
$99.00
$0.00
Unit price
per
Tax included.
The Samuel Boardman Scenic highway is a 12 mile stretch of coastline in Southern Oregon with stunning hikes, sea arches, sea stacks, beaches and coastal views. I had first visited and scouted the area in 2021 but only managed some Blue Hour pictures of Orion. On this trip in April 2021, I had 5 nights of coastal fog which prevented taking photos. I managed to extend my stay two extra nights which luckily were clear.
Natural bridges can be seen from the main viewing point just off the 101 highway. However to get to this vantage point to see along the coast, a scramble down the hill over a very tight narrow ledge is required. This is one of the most precarious locations I have taken shots from, but it's worth the risk and effort. At 4am the Milky Way lined up with the meandering coastline and sea stacks and arches.
This was a stacked sky shot of multiple 13s exposures, blended with a long exposure foreground shot.
Equipment used: Canon Ra, Samyang 24mm lens.
Note: All our prints are printed on Baryta 325g Paper, which is an excellent paper for framing. The paper is a gloss type, which gives very vivid colour views.
---