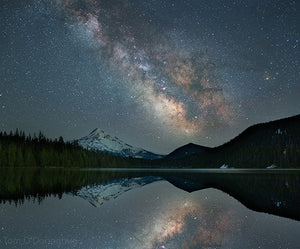 Tom O'Donoghue
Lost Lake Oregon
Regular price
$87.00
$0.00
Unit price
per
Tax included.
Lost Lake is an isolated lake high in the Mount Hood forest, region with superb views of Mount Hood to the South. Although covered in snow throughout Winter and into late Spring, this is a very popular spot for shooting the Milky Way, and camping during the Summer.

On this night in May, there was still snow on the ground, and I bought two colleagues with me to teach them how to take Astro shots. There were a few other photographers along the lake side trails, and we were lucky to get a spot with a clear view of Mount Hood, the Lake and the Milky Way.

This shot was a stack of multiple 13s sky shots, blended with a 4min shot of the foreground.
Equipment used: Canon Ra and 24mm Samyang lens, then stacked in Sequator.
Note: All our prints are printed on Baryta 325g Paper, which is an excellent paper for framing. The paper is a gloss type, which gives very vivid colour views.
---