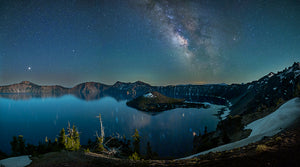 Tom O'Donoghue
Crater Lake Pano
Regular price
$130.00
$0.00
Unit price
per
Tax included.
Crater Lake National Park in Oregon USA, was formed when the volcano erupted, and then collapsed. It filled up with water over the years from rain and snowfall and is the clearest and deepest lake in the US. The blue hue from the water is stunning, and under moonlight the colour is still visible.
There are multiple hikes all around the crater rim to get vantage viewing points, and also has a loop road of the complete crater rim. The Island in the lake is called Wizard Island.
In June 2021, I drove up at night to shoot the Milky Way and the crater edge. Even in June some snow was still present on the ground as the lake is high in elevation.
I took 6 portrait mode long exposures for the foreground, then blended in 6 shorter exposures in portrait mode for the sky.
Equipment used: Canon Ra with 24mm Samyang lens and Nodal Ninja Rotator.
Note: All our prints are printed on Baryta 325g Paper, which is an excellent paper for framing. The paper is a gloss type, which gives very vivid colour views.
---