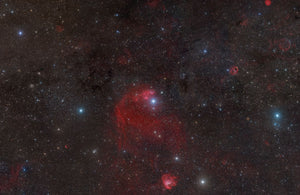 Tom O'Donoghue
"Cassiopeia Mega Mosaic"
Regular price
$98.00
$0.00
Unit price
per
Tax included.
The third of my Mega Mosaics. In this photo I wanted to capture the distinct "W" Asterism of the constellation Cassiopeia, while also going very deep in exposures, to show all the varying types of deep sky objects not normally seen in context of such a large familiar expanse of the sky.

25 panes taken at 530mm focal length were stitched together to give a total of 350hrs of exposures. Going this deep, brought out the Emission, Dark and even some Reflection nebulae to the fore. There are multiple Star clusters, Planetary nebulae, and even an apparent out of place Galaxy littered throughout the photo.

In the center of the photo, the Emission nebula around Gamma Cassiopeia, flows all the way to the Pacman nebula at the bottom of the image. My fellow imager Olly Penrice gave this nebula the moniker 'The Breaking Wave'.
Note: All our prints are printed on Baryta 325g Paper, which is an excellent paper for framing. The paper is a gloss type, which gives very vivid colour views.
---