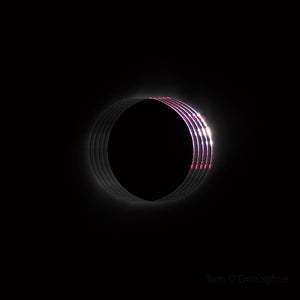 Tom O'Donoghue
Baily's Beads Composite
Regular price
$55.00
$0.00
Unit price
per
Tax included.
On the 21st of August 2017, there was a Total Solar Eclipse visible only in a 100km wide band across the United States from Oregon to South Carolina. I travelled to Jackson Hole, Wyoming to be in the shadow of the eclipse as it passed by at 1100kph.

A total solar Eclipse occurs about once a year, and it's the perfect alignment of the Moon passing in front of the Sun. This movement blocks out the Sun's light from a few seconds up to 7 mins. This eclipse lasted just 2mins 19s from my location on the day.

In this photo I combined images taken as the last fading Sun's rays disappear behind the Moon. The Sun's rays at this point are shining through the Moons mountains and valleys on the edge of its limb, giving us the famous Bailys beads. As the light fades and becomes completely covered by the Moon, this brings us to the Eclipse Totality.

Each image is 1/2000s at 200ISO taken with a Canon 5D and through a 600mm FS60 Tak telescope.
Note: All our prints are printed on Baryta 325g Paper, which is an excellent paper for framing. The paper is a gloss type, which gives very vivid colour views.
---